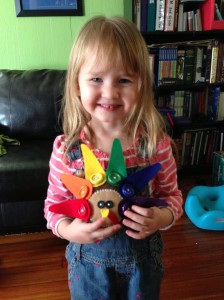 I am homeschooling my two sons who are in kindergarten and 2nd grade.  Quite often when we are doing our lessons my two little daughters want to join us.  The girls aren't interested in the lesson but they want to sit with us and do something entertaining.  So right now I get out the counting animals, the dry erase boards, or coloring books.  I'm looking for more activities to stimulate them and keep them occupied while we work.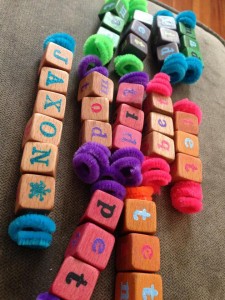 I've heard of busy bags over the past several years, seen them mentioned on social media, and decided to look into them for the girls.  My youngest daughter is 21 months and my older daughter is 3 1/2 years old.  So we need busy bags to get them stimulated and keep them occupied while mom teaches big brothers.  As I was looking online at all the different options for busy bags I realized that having some for my kindergartener would be fantastic too.  He doesn't spend the whole day in lessons like my 2nd grader and he would love the extra stimulation.
So I put my feelers out on my social media accounts and groups that I'm apart of to see if there was interest and I'm so happy to see that there is.  In the effort to keep things organized I'm going to use my website to post the group(s) and items.  We will be doing a maximum # of people in each group of 10.  If there is enough interest we will do more than one group.  The bags will be exchanged at noon on February 12th in the Lee's Summit area(TBD).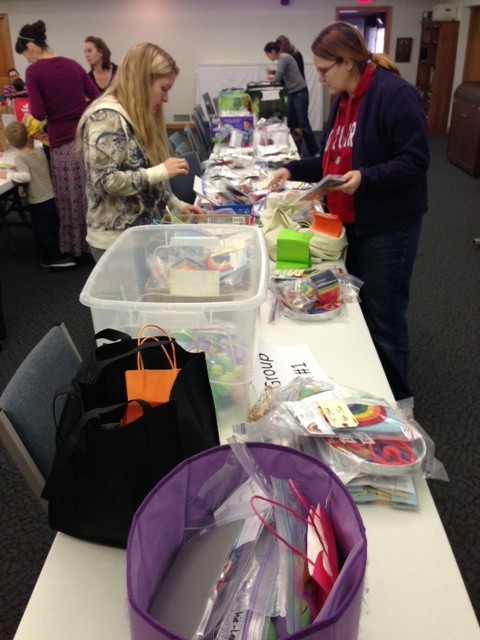 You're Invited!
What:  Busy Bag Swap!
Where:  At my church in the Lee's Summit area off Colbern Road. (I will pm the address to those who sign up.)
When:  Tuesday, February 12th at noon (Bring a sack lunch!)
Who:  Join other mamas looking for activities to help stimulate and occupy their child.
How:  Comment below or facebook me to sign up and let me know what activity you will be creating(check the blog to make sure there aren't duplicates).  Then create/assemble/hand make an activity that is appropriate for the age range and store it inside of a 1 gallon plastic zip loc bag.  On the bag write in permanent marker: the name of the person in the group, the age range the swap is for, and your name.  Inside the bag include instructions on how your activity is to be used.  Bring a box, basket, or large tote with your name on it for everyone to put your new busy bags in.  (Bring a sack lunch.)  Pinterest has tons of ideas for busy bags.  Here is a link to my Busy Bag board.
Note:  If you don't make it the day of the swap and you didn't make arrangements for the busy bags you made to get there the day of the swap, then the bags that were made for you by others will be traded among the people in attendance at the swap. It's too hard to distribute the bags you made to nine other people after the swap.
Note:  You can make more bags than the groups you are in.  Others at the swap may make more too and you can swap outside a group.  😀
Sign Up List
Busy Bag Swap Group #1
1) Brookie-Lee:  Felt button bird with colored feathers
2) Jayna: Felt Fishing
3) Candice: Popsicle stick puzzle
4) Ali: color matching boxes
5) Leslie: Paint chips with clothes pins
6) Shannon: "Now I know my ABC's" – matching upper and lower case letters
7) Julie G: Felt Build a Rainbow
8) Michelle: felt popsicle matching
9) Mary: Homemade playdough and toys
10) Angeliina: Animal Habitat Match Up
Busy Bag Swap Group #2
1) Brookie-Lee: Felt ice cream patterns
2) Jennifer: animal head/tail matching game
3) Pattie: clothes pin number match up
4) Johanna G.: potatoe head bags
5) Angela: Felt Pizza factory with recipe cards
6) Julie G: Felt mailbox
7) Kimberly: shoe lace boards
8) Megan: Watermelon Picnic (matching numbers 1-10)
9) Caroline: clothesline bag with felt outfits and clothespins and string
10) Kylia: Easy Stitch Cards
Busy Bag Swap Group #3
1) Brookie-Lee: Cookie counting with sprinkles
2) Caroline: ABC Dry Erase bag
3) Nannette: button threading felt snake
4) Belinda: discovery bottle
5) Judi: Pipe cleaners and beads
6) Angeliina: hot glue shape that you can rub a crayon over and reveal the shape
7) Johanna G.: cupcake activity
8) Julie M: race car shapes w/ a car for driving plus a dry erase marker for tracing
9) Julie G: counting caterpillars for one
10) Megan:  letter activity called "Jungle Fun"
Busy Bag Swap Group #4
1) Brookie-Lee: Fine motor popcorn game
2) Belinda: large button multi use game
3) Johanna G.: shades of color, a color graphing activity
4) Julie M: a felt and pompom apple tree counting game
5) Julie G: ribbon threading with plastic canvas shapes
6) Nannette: upper and lower case spoon matching
7) Johnna A.: cardboard stackers
8) Amber: fabric pattern matching game
9) Leslie: Picture Making Felt Board with Shapes
10) Kimberly: small felt squares that you thread onto a ribbon
Busy Bag Swap Group #5
1) Brookie-Lee: 3 letter spinning words
2) Amber: Gel Writing bag (Don't worry I will use our food saver bags so they don't open)
3) Ruth: felt button flower gardens
4) Adrianne: stretchy bands
5) Kylia: popsicle stick building
6) Shawna: Popsicle memory game
7) Tami: pipe cleaners and magnets
8) Julie R: egg matching
9) Julie G: chalk board
10) Jessica H: Milk Cap Numbers with Animal Countin
Busy Bag Swap Group #6- DUPLICATES OK
1) Holly: I Spy Books
2) Judi: color paint palette matching
3) Angeliina: Animal Memory Game
4) Tracie: The Early Bird Gets the Worm with a clothespin and pipe cleaners
5) Rachel: felt Popsicle color -word match
6) Rachel: felt ice-cream cone with pattern cards
7) Jessica: Upper and lower case spoon matching
8) Kimberly: TBD
9) Julie R: Number Boards
10)  Belinda: Coin money match
Comment below or join the facebook event to sign up and let me know what activity you will be creating!
Notes for myself:
Meet Shannon at enrichment on Feb 5th to get her 10 bags and then collect hers at the swap and take them to her at enrichment on Feb 19th.
Pick up Angeliina's bags at Dionna's.
Coordinate with Kylia to get her bags.
Meet Judi at Coco Keys on homeschool day.