Everyone wants to know… What is a busy bag? A busy bag is a gallon size plastic bag(or some other container) that holds an activity with instructions for how to do the activity. These activities are usually appropriate for ages 18 months-5 years. You can do them for older children as well. These activities usually do not require mom's involvement or supervision. It's an activity that will stimulate the child and keep them busy for a time. There are SO many wonderful ideas out there and there are Busy Bag Swaps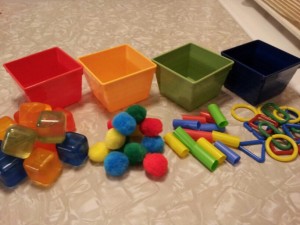 popping up all over the country! A swap is where a bunch of mamas make busy bags and then swap them. So for instance I'm making 10 bags with a felt ice cream pattern activity in them. I will be taking these ten bags to a swap on 2/12/13 and giving nine of them away in exchange for nine unique and different activities. So my daughters will have ten different busy bags to try out!
Busy bags can focus on fine motor skills, learning shapes, colors, numbers, letters, matching upper and lower case, counting, to beginning reading, or just for fun.  Ideas range from play-dough, to dress up dolls, to matching word colors to paint colors.  The options are endless.  Think about how much fun our toddlers have after the presents have been opened on Christmas just playing with all the boxes that gifts were in.  Children don't need a lot to keep them interested.  Just something different that catches their attention.
Interested in Busy Bags?  Host a swap in your area of town!
How to host a busy bag swap-
Pick a Location:  Check with your church, library, or wait for warm weather and go to the park!  Find a location that works for lots of little kids and have access to drinking water and bathrooms.  OR keep it small and have a moms night in and host it at your house!  I'm hosting my first swap at my church.  Late spring I hope to host one at a local park.  And in the heat of the summer I'm think a mom's night in would be really nice.  😉
Rules and Restrictions:  Decide the top number of people that can be in a group.  I put a cap of ten people per group.  That means that one mom makes the same activity for her bags for ten people.  Which will include herself.  So far we have six groups in our swap.  That's 60 unique busy bags! 
For five of the groups I asked for no duplicate activities.  The sixth group we've had several duplicate activities.  That way if the same person signs up for two groups then they won't have duplicate activities.  You can also decide if you are going to put age restrictions on the groups.  As my kids and the people I know mostly have multiple children I didn't put an age range restriction.
Who to invite:  One of the great things about social media is how easy it is to connect with other mamas.  First create a facebook event with all the location and time details as well as instructions for what to do.  Then post a link on your facebook profile and invite people to your event.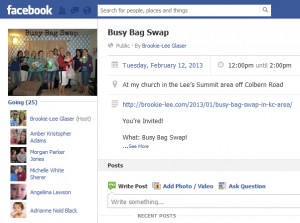 I also posted on forums that I participate in.  My local homeschool group, parenting group, church group, etc.  Let the moms know if the event is kid friendly or mamas only.  Of course nursing, lap babies are always welcome.  Edit the details of the event to show what activities the moms in each group are making.  You can also keep this list on your blog like I did.  Just somewhere public and try to keep it up to date.
Activity Instructions:  Give instructions for what the activities need to include.  I asked that the activity be placed in a  gallon plastic bag with the group number, the creators name, and the name of the person it's going to.  Also if the activity requires instructions(for mom) that those be placed inside the bag as well.  If there were a age restriction that could be written on the bag as well.
At the Swap: Setup tables or spread out blankets and place numbers for each group with the names of the people in the group listed on the same page.  I asked each participant to bring a box/basket/tote with their name on it so that it can be placed on that groups table.  I'm in five groups so I will need five boxes with my name on them to place on each group table that I'm participating in.  Then moms mingle, and kids play while we hang out and wait for everyone to show up.  The swap I'm hosting is at noon and we are bringing a sack lunch.  So we will stay and have lunch, see our busy bags, and play with friends.
Be Prepared:  Sometimes moms want to participate and can't make it to the event.  Be flexible and try to figure out how to underground the exchange.  I'm meeting one mom at homeschool day at our local CoCo Keys indoor water park to get her bags and meeting another mom at my local La Leche League to give her her bags.  Neither activity is out of my way and more mamas are getting to participate.  Hopefully no one is sick or otherwise unable to make the swap but if they miss it, and they didn't get their bags to me before hand, then the moms at the swap will have extra to swap with each other.  It's too complicated to try to get the bags to everyone afterward if something wasn't setup before hand.  Make sure your moms know that this will happen if they miss the swap.  It's also a good idea to mention if the moms want to make extra to swap outside of a group.
The Giveaway!

In honor of the Busy Bag Swap that I am hosting in Lee's Summit on February 12th, 2013 I want to share the Busy Bag love!  I will be giving away a busy bag to 3 lucky winners!  I'll not sure what the bags will be yet.  Probably some from the five activities I'm making for the Feb swap.  I'll be mailing them so you can live anywhere in the continental US to participate!  My last giveaway winner lived in Michigan!
5/3/13  And the random winners of the Busy Bags are… Coree, Amber, & Nannette!  Thank you to everyone who contributed by sharing with us!
Also this month's random subscriber winner of the Amber Teething Necklace is… jjbretches!  Congrats and thank you for subscribing to my blog!