We had an amazing time at the swap today!  We swapped over 600 busy bags!  I'd say that's a big success for a first time swap.  It was really awesome and my girls have some great activities to play with!
Group 1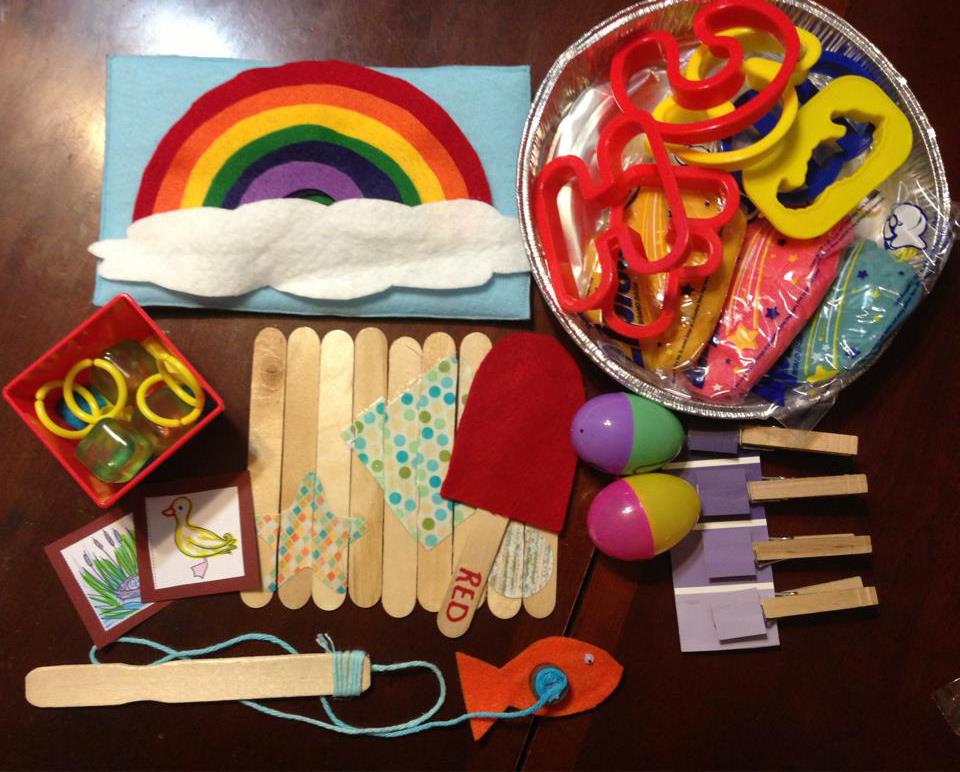 Jayna: Felt Fishing, Candice: Popsicle stick puzzle, Ali: Color Matching Boxes, Leslie: Paint Chips with Clothes Pins, Shannon: Letter Eggs, Julie G: Felt Build a Rainbow, Michelle: Felt Popsicle Matching, Mary: Homemade Playdough and Toys, Angeliina: Animal Habitat Match Up, Brookie-Lee:  Felt Turkey(not shown, see image down the page)
Group 2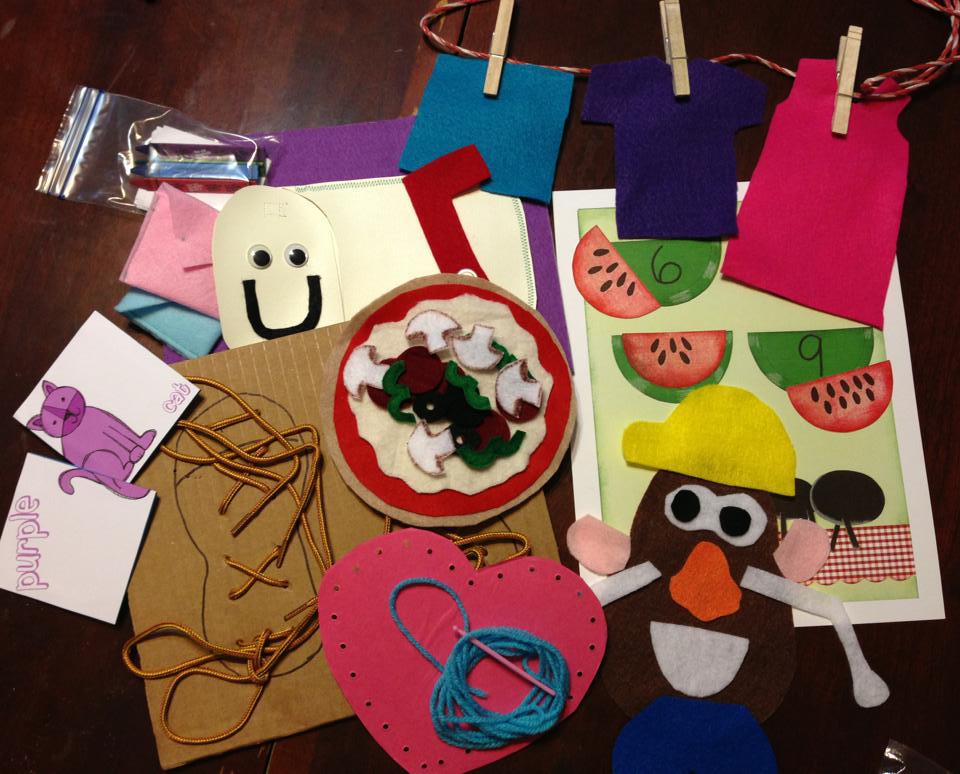 Jennifer: Animal Matching, Johanna G.: Mr. Potato Head, Angela: Felt Pizza, Julie G: Felt Mailbox, Kimberly: Shoe Lace Boards, Megan: Watermelon Picnic (matching numbers 1-10), Caroline: Felt Clothesline, Kylia: Easy Stitch Cards, Brookie-Lee: Felt Ice Cream Patterns(not shown, see image down the page)
Group 3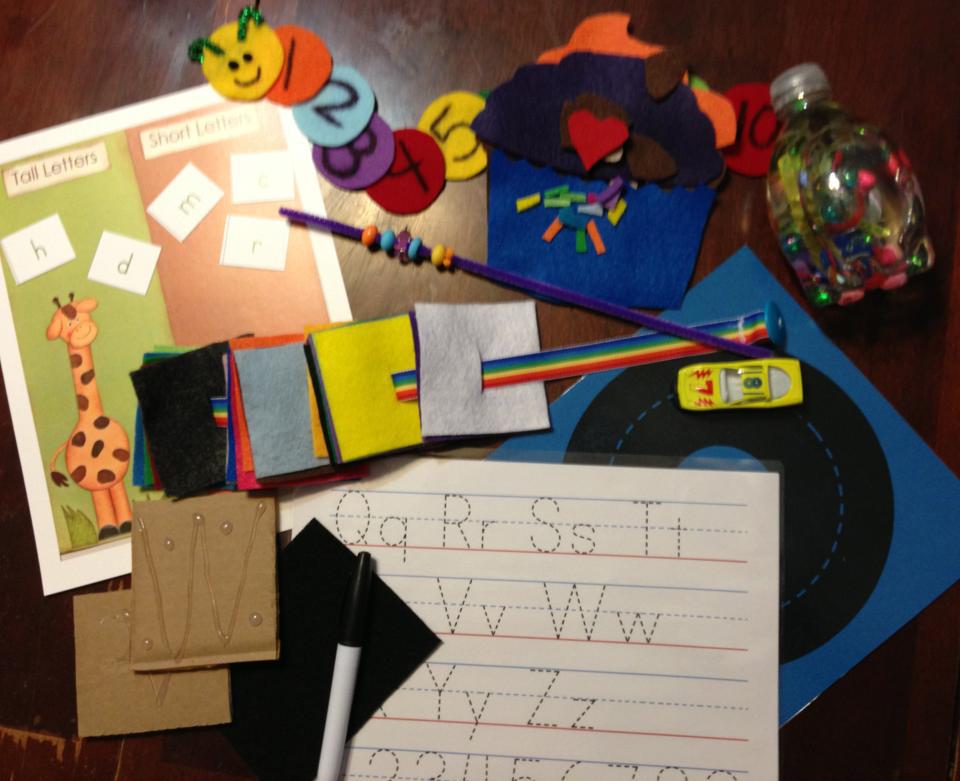 Caroline: ABC Dry Erase, Nannette: Button Threading, Belinda: Discovery Bottle, Judi: Pipe Cleaners Beading, Angeliina: hot glue shape that you can rub a crayon over and reveal the shape, Johanna G.: Felt Cupcake, Julie M: race car shapes w/ a car for driving plus a dry erase marker for tracing, Julie G: Counting Caterpillar, Megan:  Letter Activity, Brookie-Lee: Cookie Counting(not shown, see image down the page)
Group 4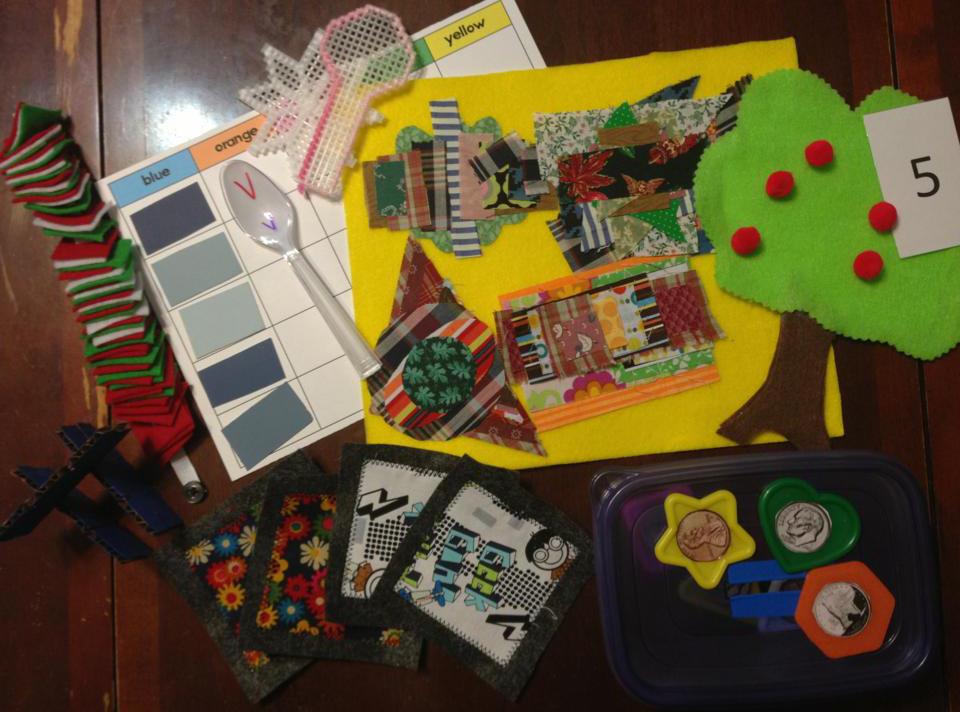 Belinda: large button multi use game, Johanna G.: Shades of Color, Julie M: Felt Apple Tree, Julie G: Threading on Plastic Shapes, Nannette: Spoon Matching, Johnna A.: Cardboard Stackers, Amber: Fabric Matching Blocks, Leslie: Picture Making Felt Board with Shapes, Kimberly: Button Threading, Brookie-Lee: Fine Motor Popcorn(not shown, see image down the page)
Group 5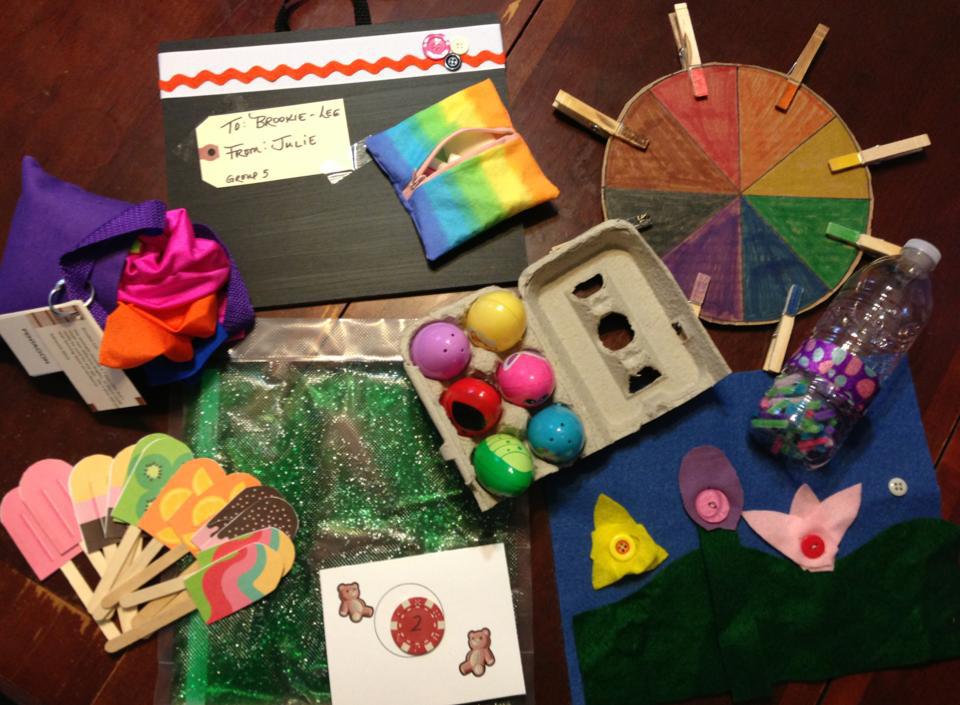 Amber: Gel Writing, Ruth: Felt Garden, Adrianne: Stretchy Bands, Kylia: Color Wheel Matching, Shawna: Popsicle Memory, Tami: Pipe Cleaner Magnet Bottle, Julie R: Egg Matching, Julie G: Chalk Board, Jessica H: Milk Cap Numbers with Animal Counting, Brookie-Lee: 3 Letter Spinning Words(not shown, see image down the page)
Group 6
There was a group six but I didn't participate in that swap.  We opened it up for duplicates and I will post a picture if someone sends me one.  😀
Brookie-Lee's Bags
The five activities that I made that were included in the groups above(just not when I was taking the photos).  The turkey isn't done in this photo but you've seen the finished product on my other posts.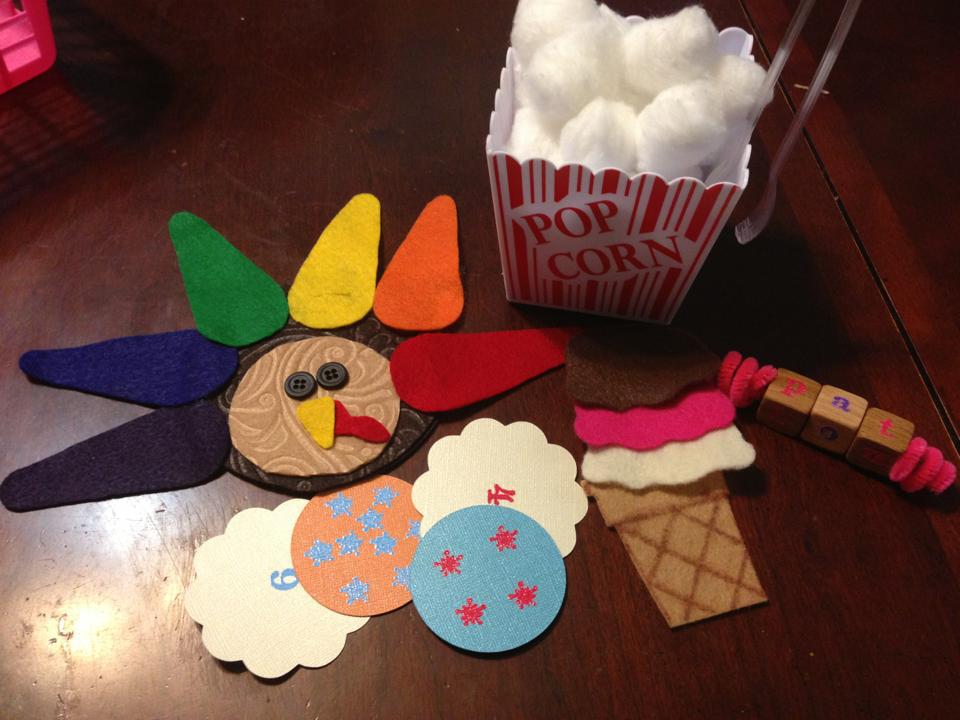 Group 1: Felt Turkey, Group 2: Felt Ice Cream, Group 3: Cookie Counting, Group 4: Fine Motor Popcorn, Group 5: 3 Letter Spinning Words
Thank You and a Sweet Gift!
I was chatting with a mama and I caught sight of the white board at the front of the room.  There was a thank you note written from the moms and it was so sweet and made me feel great.  One of the mamas brought me a hostess gift which was extremely sweet and Tylea has been playing with it for hours.  Thank you Ali!
This was a great experience and all the children were wonderful and everyone was very understanding when things didn't go perfectly.  I really enjoyed it and thank you to all the wonderful women who created these fantastic busy bags!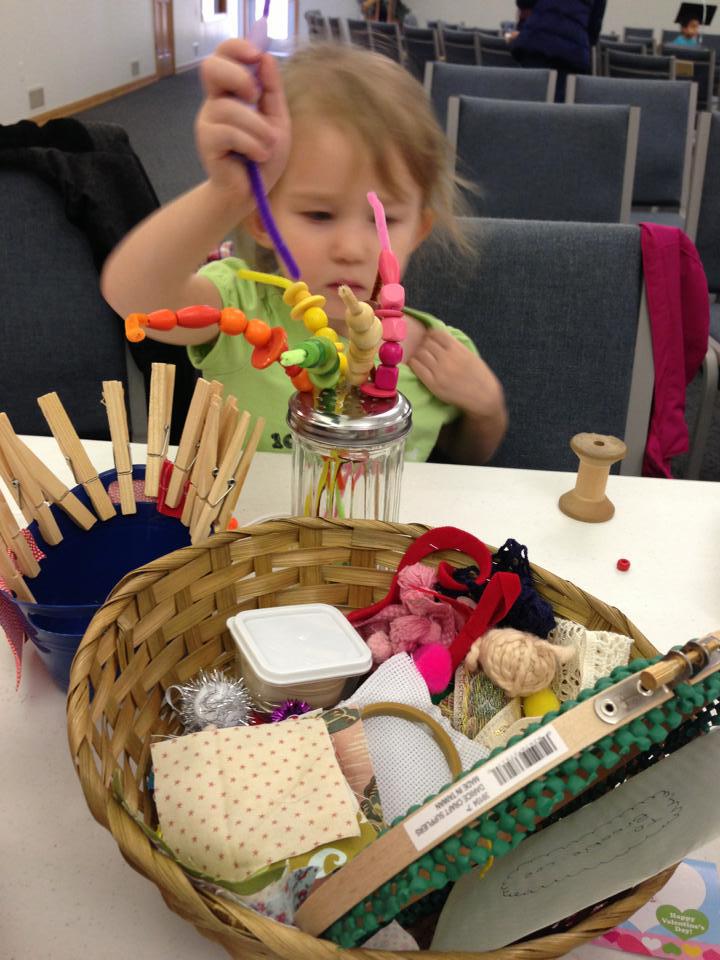 When's The Next Swap?!
Late Spring/Early Summer!  I'm thinking either May 4th or June 1st.  Both are Saturday's.  I will have to check with the church but it would be great to do a 10am.  Make sure you're subscribed to my blog and you've liked my facebook page so that you stay updated!