I've been cloth diapering for the last 6 years.  You could say I've been around the fluffy block a time or four.  For so many reasons I love cloth diapers.  My favorite is they save me time and headache.  I don't have to rush to the store if I run out of diapers(or wipes).  I don't have to shell out my vacation money monthly and then see it on the curb on Thursday mornings(trash day here).  I don't have to smell Friday's dirty diaper on Wednesday.  I don't have to change baby's whole outfit Every…Time…She…Poops.  Which means I need fewer and wash fewer baby clothes.  With clean cloth next to baby's bum I don't have to worry about harmful chemicals or rashes.  Oh and I love the cloth wipes…who wouldn't…they are so much more efficient when I'm changing a wiggling toddler.  With cloth diapers my girls and boys show interest early and potty train by 2 years old.  Washing the diapers is a breeze too.  And baby's diapers are so cute! Dressed only in her diaper she makes a fashion statement.
So now on my fourth child I'm in a full on love relationship with my diapers.  I found the system that I adore, I figured out the best way for me to wash them, and I'm in a routine to keep up supply.  Don't get me wrong diaper life was not always this peachy.  Many leaking, stinking, rashing trials had to be endured.  But I'm so happy that I took this journey and now that I'm near the end of it I know I will miss my children's cute fluffy bottoms.
The Diaper
Owning a cloth diaper store gave me the opportunity to try a lot of different diapering systems over the years.  I've tried prefolds, contours, and fitteds with their PUL, wool, and fleece covers as well as pockets, all-in-ones, all-in-twos, one-size, and all the new hybrid systems.  There are so many options on the market and so many differently shaped baby's with individually sized bladders to customize for.  After years of loyalty to Perfect sized pocket diapers from Fuzzi Bunz I've fallen in love with a new diaper….the Fuzzi Bunz Elite one-size pocket diaper.  The Elite is trimmer than it's predecessor and the Perfect sizes too.  The adjustable elastic is the ideal way to adjust sizes without extra bulk.  And the amazing minky inserts are super absorbent.
Staying Dry
With newborns we just change baby as often as we nurse or baby poops.  Changing a newborn that often is just how it should be.  No one wants to sit in their waste for very long.  Once baby is older they come to a heavy wetting stage, especially at night.  One option is changing baby in the night.  Another option is an extra insert.  I've always used hemp inserts for this but I'm now really liking the new minky inserts.  For even more protection during this stage we use a Sugar Peas Fleece cover or a recycled wool cover.
Rashes
I've found one of the best methods for clearing up a rash is a naked night time.  We will put down a waterproof pad or some towels and let baby sleep naked.  This helps clear up a rash overnight.  Otherwise I will use my Magic Stick which is a natural rash ointment in a stick form that works great and is mess free.  If baby has a rash there is an issue that needs to be resolved.  The issue could be that baby is sick or reacting to food they ate, or detergent on the diapers.  Another possibility is that the diapers aren't getting clean enough or the bacteria isn't being killed.
Washing
Washing my cloth diapers has been a struggle for me for years.  I couldn't shake the ammonia smell.  Sometimes the build up would be so bad it caused rashes on my baby.  And that I couldn't stand.  I've bleached, boiled, treated, stripped, sunned, and re-washed so many times…….whew.  The happiest testimonials from moms I've talked to have been from those who either line dried their diapers in the sun, or from those lucky mamas who had a soft water system.  I can now add myself to the list but for a different process.  I use a PureWash which adds oxygen and oxidizers to the water that goes into my washer.  I only use cold water and I don't need any detergent.  It's been amazing!  I feel like my tax refund was put toward some great long term savings for detergent, hot water, and avoiding all the re-washing and stripping.
Traveling
When we go on a weekend trip we take our cloth diapers with us.  We have enough for a couple days and it doesn't interrupt our cycle.  Trips that last longer than that are a different story.  We've tried different cloth options but we prefer getting the eco-friendly biodegradable diapers if we can find/afford them.  A lot of people have great success with the disposable inserts that are now available for cloth diapers.  They are absorbent, easy to use, and biodegradable.
The Extras
I mentioned this already but I love my cloth wipes.  I use 2 ply organic bamboo velour wipes.  They are so soft but so grippy.  Of the many wipes I've tried nothing holds a candle to OBV wipes.  I have 2 wetbags for my diaper bag and 2 pail liners to hang in my bathroom.  Other than that, my Magic Stick, and my Elite diapers, I have some prefolds that we mostly use as spit rags but occasionally are used as emergency diapers with a Snappi that I have stashed away.
The Conclusion
I love the fact that we cloth diaper our children.  I love that it's healthier for them.  I love that it saves us a ton of money.  I love that it helps us potty train sooner.  I love that I'm not putting a trash bag full of diapers on the curb each week.  I love how cute my baby's bottom looks in a fluffy diaper.  I love how easy it is.  I love sharing with others when they ask about my daughter's cloth bottom.  I heart cloth!  Below are some t-shirts that I will be printing for our family and selling here on my blog.
The Freebie
Another diaper that I like and is probably one of the most convenient cloth diapers out there is bumGenius' newest one-size(OS), fast dry, all-in-one(AIO), the Freetime.  There is no stuffing involved and it dries super fast for an AIO.  It's OS feature snaps in the front, as all bumGenius do, so it's slightly bulky but it's a great diaper and bumGenius has some great colors and prints.  I happen to have a new Freetime diaper and I want to share it with you!  So please reply here on this blog post with your cloth diaper experiences/preferences/tidbits, or lack thereof to enter yourself for a free bumGenius Freetime cloth diaper!  The winner will be announced on June 1st!
Click the picture of Vaylee below to see her in action.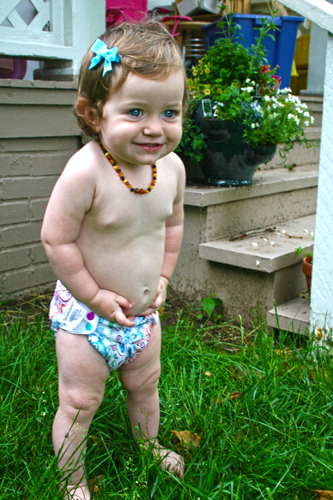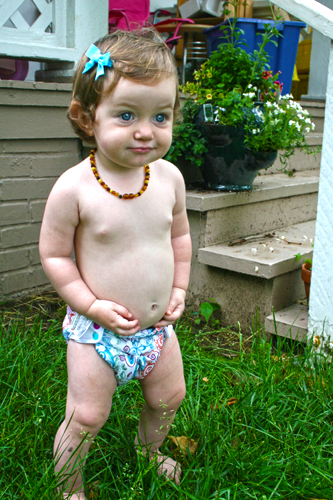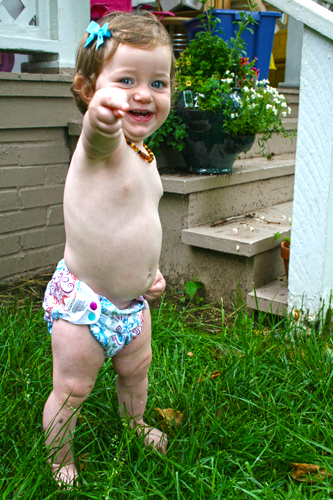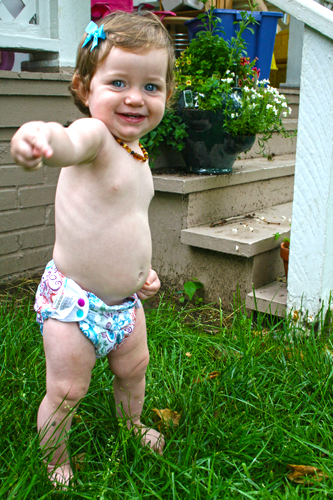 6/1/12  And the random winner of the bumGenius Freetime cloth diaper is… Jessica Bretches!  Thank you to everyone who contributed by sharing with us your experiences and all the great cloth diapers that real moms are using!