Our children's ages are from 1 to 6 years this summer.  So our activities are geared around things that would be appropriate for them to enjoy.  Staying inside all summer is no fun, and when you live in the city like we do, sometimes you just need to get out where you can stretch and run.  Below is a list of some of the things we will or have participated in over the summer.
Summer Reading Program– a program by our local library encouraging the kids to read over the summer and turn in there reading hours for prizes.  The libraries also have different activities all summer long.  Free!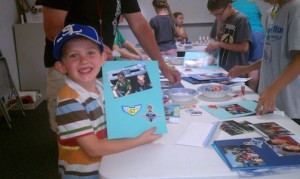 Vacation Bible School– offered through our church.  The children join their friends for 5 mornings of singing, praise, scripture, crafts, snacks, and games.  They love it, talk about it for weeks, and look forward to it each year.  We get the music CD that goes with the theme and the kids sing it out as we drive home and for the rest of the year.  Free!
Swim Lessons– offered at our local pool.  A 10 day intensive to help our kids learn basic swimming skills.  Fun in the sun while learning something new!  $ Lesson prices vary per pool.
T-ball/Baseball– nothing says summer like hotdogs and baseball!  My kids love playing in the dirt, hitting the ball, and catching grounders.  We've really enjoyed the Christian sports group we are a part of.  $ Lesson prices vary per sports organization.
Summer Ballet Workshop– after two boys and their wonderful sports activities I'm so excited that my daughter is old enough for ballet!  We are doing a once a week for four week workshop at the Kansas City Ballet!  $ Lesson prices vary per class.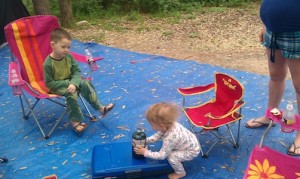 Family Camping Trip– our annual trip with the grandparents, aunts, uncles, and the grand kids.  A time to fellowship with family, play all day with cousins, and have some relaxing fun!  We camp out in tents at state parks, hopefully with a river to float on, eat s'mores and roast hot dogs.  $ Park entrance, camping reservation, & food.  Cheaper than camping alone as you split the cost of everything with the family.
Out on the Lake– there are some great lakes in this area.  If you know someone with a boat a day on the water can be a fun time.  Pack some drinks and snacks and head out on the waves.  Free! unless you're buying the gas. ;D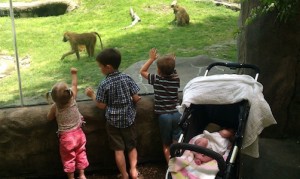 Kansas City Zoo– it wouldn't be summer without lots of trips to the zoo.  There's lots of room to roam and expect this to be a day of walking.  The discovery barn is fun with the playground right outside.  We always trek to Africa to see our favorite animals.  Lions, cheetahs, leopards, gorillas, baboons, hippos, and now the polar bear!  Can't wait until the penguins arrive!  $ Tickets or season pass$  If you live in the county there is a reduced price.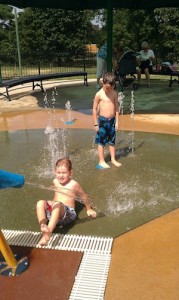 Spray Park at Loose Park– we always have so much fun at this spray park and it's free!  The park is gorgeous and has an amazing playground on the North side too.  We have our annual picnics and family pictures taken here.  It's home to the famous rose gardens and has nice walking trails and duck ponds.  Free!
Deanna Rose Farmstead– The kids always love to see the animals, fish in the pond, ride the ponies, and splash in the water.  Monday-Thursday is Free!
Park After Dark Movie Series– a fun family time to enjoy the big screen.  Blockbusters played on big screens after sundown are another fun way to appreciate summer.  Located all over the metro.  Some theaters offer $1 movies during the day as well and it's a great way to beat the heat. Free!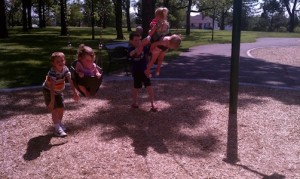 Park Days with Friends– scheduled throughout the summer.  Facebook groups, parenting forums, Meet-up groups all get together around the Kansas City area at different parks year round.  During the summer there are even more friends who come out to play.  We will be participating in some weekly meetups to swing, slide, and picnic!  Free!  We also enjoy meeting up with family at parks for picnics, frisbee, cookouts, roller skating, bike riding, etc.
Family Swim with Friends– we have some good friends who have invited us to cool off on hot summer evenings.  Pools often offer family swim time in the evening.  It's a great time to fellowship and cool off.  $ Price will vary by location.
Worlds & Oceans of Fun– And of course we also have our local amusement park.  Our kids have not been old enough to really enjoy these parks yet.  We may drop in for a day and see how it goes.  $ Day & season passes available.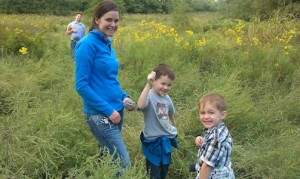 Nature Hikes– We've been looking for land for a farm someday and so we've had some amazing nature hikes on property that is for sale.  There are some awesome trials in local parks that are Free!
Please share with us fun things you like to do during the summer.  I'd love to hear about other activities around the Kansas City metro or ideas that don't have to be specific to a particular area.
Some things we like to do around the house during the summer:
Bubbles in the front yard.  There's just something magical about bubbles.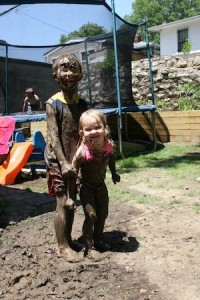 Sprinkler under the trampoline.  (Which creates mud with our yard under construction, which means mud people!)
Watermelon in our swimsuits.  Since it can be quite messy with little kids.
Homemade Popsicles- the kids love to eat these.  It's one of those fun summertime treats that drip everywhere.  Recipe- blend strawberries, orange juice, kefir, and dates!
Kiddie pool in the yard.  If it's hot enough outside we will even put ice in the pool.
How do you enjoy summer at home?  Do you have a creative activity that your kids love?