We use to have a hard time at bedtime.  The boys would talk and keep each other up or get out of bed to play, they'd use the bathroom several times, complain that they were hungry, anything they could not to sleep.  My daughter won't go to sleep by herself even though she sleeps in the same room as her brothers(for now).  We use to get frustrated and bedtime was a stressful time.  Then we decided to implement a bedtime routine.  When it's bedtime we have them brush their teeth and get jammies on and then we ask four basic questions:
Are you hungry?
Do you need to go pee?
Do you need to go poo?
Do you have your water bottle?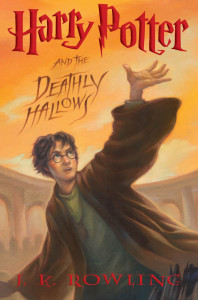 Then we head up to their room.  We read our science and any school literature, then we do our Bible story readings(we have 3 different age levels we read too for Bible), then we say our prayers.  We finish the routine by reading a novel.  We started with The Magic Tree House Series, read some My Book House, and Grimm's Tales, then the first few Harry Potter books, followed that with the complete Little House on the Prairie series, and now we are about to get back to finish the Harry Potter series.  My boys love for me to read to them, and my daughter gently drifts off to sleep listening to her mama's voice.  It's a very calm way to end the day.  We all enjoy the reading and it winds things down nicely.  Plus it's enriching my children and giving them a love of literature.
The Giveaway!

In honor of the upcoming Summer Reading programs at our local libraries I want to share the reading love! I will be giving away a Harry Potter & The Deathly Hallows to 1 lucky winner!  We were gifted some extra copies and we want to share! I'll be mailing the book so you can live anywhere in the continental US to participate!