Homebirth is on the rise in the Midwest and across the country.  Women are standing up for their right to birth how, with whom, and where they want.  My husband and I birthed all four of our children at home in Missouri.  We have many friends in Missouri and Kansas alike that have also made this choice for their births.  Below is information of the legal status of homebirth in Missouri and Kansas.
Kansas Homebirth Law
In the state of Kansas you have the right to birth anywhere you choose, and you can have any attendant you wish. Drs and CNMs are regulated by the Kansas Board of Healing Arts and the State Board of Nursing respectively. DEMs are not required to carry any license. Although there is no Kansas law regulating birth attendants, the legal precedence in Kansas is that birth is not a medical event therefore, no medical license is required to attend births (STATE BD. OF NURSING v. RUEBKE 1996)  Source
Missouri Homebirth Law
"Notwithstanding any law to the contrary, any person who holds current ministerial or tocological certification by an organization accredited by the National Organization for Competency Assurance (NOCA) may provide services as defined in 42 U.S.C. 1396 r-6(b)(4)(E)(ii)(I)." What this means is that Certified Professional Midwives may provide services related to pregnancy (including prenatal, delivery, and postpartum services).  For the first time in almost 50 years, midwives may legally practice in the state of Missouri.  Source
Types of Midwives
DEM(Direct Entry Midwives) aka Lay Midwives:  A direct-entry midwife is an independent practitioner educated in the discipline of midwifery through self-study, apprenticeship, a midwifery school, or a college- or university-based program distinct from the discipline of nursing. A direct-entry midwife is trained to provide the Midwives Model of Care to healthy women and newborns throughout the childbearing cycle primarily in out-of-hospital settings.  Source
CPM(Certified Professional Midwives):  A Certified Professional Midwife is a knowledgeable, skilled and professional independent midwifery practitioner who has met the standards for certification set by the North American Registry of Midwives (NARM) and is qualified to provide the midwifery model of care. The CPM is the only international credential that requires knowledge about and experience in out-of-hospital settings.  Source
CNM(Certified Nurse Midwives):  A Certified Nurse-Midwife (CNM) is an individual educated in the two disciplines of nursing and midwifery, who possesses evidence of certification according to the requirements of the American College of Nurse-Midwives.  Source
List of Midwives in the Kansas City Area
Fran Beier – Homebirth Services – (785) 749-7598
Carolyn Zak – Homebirth Services – (816) 246-0370
Our Four Children Were Born at Home in Missouri
Our first child was born in September of 2005 in our home in Lee's Summit, Missouri. As were our second and third child. Our fourth child was born in our home in Kansas City, Missouri in April 2011. We have a wonderful midwife who started as a DEM and become a CPM a long time ago. Our experience has been one of love, encouragement, and information. Our midwife is a great resource of knowledge, and she empowered us to give birth. She did not do internal exams, she never told me to push, she supported me, helped keep me calm and focused, supported my perineum, checked for a cord on baby's neck at crowning, guided me through the 3rd stage of birth, and made sure mom and baby were doing well after birth.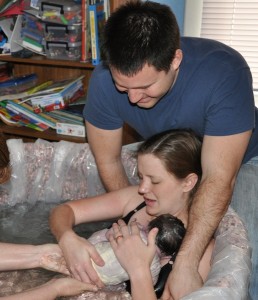 I'm sure there are a thousand things that she did that I didn't highlight but my experiences have been calm, laid back, and non-invasive. My body was built with the capability to give birth, and my midwife is my lifeguard making sure everything goes smoothly. She knows what circumstances are red flags and she makes sure we don't miss anything and that everyone is safe. We've had four beautiful births that have been a great blessing to me as a mother and woman.