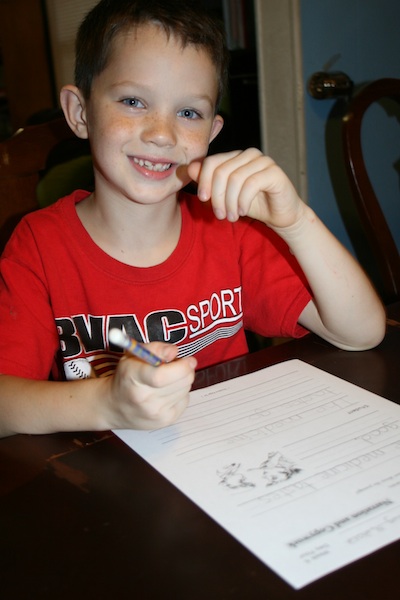 Teaching your children to learn to write can be one of the most intimidating subjects of learning.  Where do you start?  How do you progress?  What if you miss something?  My oldest child is in 2nd grade and so I will only speak up to where we are now and my plans for the future.
At the age of 3 my daughter Ty proudly sings her ABC's each day to show us how smart she is.  She can recite how to spell her name and she can recognize it on paper.  I have started the first four phonograms with her o, c, a, d but she has not memorized them.  She merely repeats them after I say them and I haven't pressured her.  She traces over the alphabet with dry erase markers as well. We are doing the Letter of the Week program with her and exploring the alphabet.  She really enjoys the activities and being a part of school.
My son Jax is in kindergarten and we have been working on phonics since last year.  He has the sounds of the basic alphabet memorized and we are working through the remaining phonograms.  When I introduced the sounds of each letter I taught him the correct way to write each letter.  We use what is called the circle space and stations to help form the letters.  He is working through I Can Write-Manuscript and we are focusing on proper positioning of pencil, paper, and posture as well. Once his penmanship is established we will move on to the writing curriculum.
My son Z is in 2nd grade this year but we got behind lessons(mom's fault) last year so we are doubling up on our writing lessons to complete our 1st grade book as well as our 2nd grade book.  We use the Writing With Ease curriculum which has prepared lessons for each day making this subject super easy at our house.  It's a quick exercise as well, so writing is not a subject where I'm pulling teeth.  Basically I read different passages to him and he either copies a sentence, or dictates a sentence to me which I write down and then he copies.  During our writing lessons I sit and watch him form each letter and correct any errors in formation.  At some point this year we will start I Can Write-Cursive as well as him writing from dictation.
Here is a blog article that I found very informative especially if you choose not to purchase a prepared curriculum.  And here is a resource website for teaching writing as well.
The Giveaway!
In honor of being back to learning my giveaway this month is writing curriculum!  We love this program and it has helped my son develop a foundation as a writer!
"Young students who learn to write well need one-on-one instruction—something which your child's classroom may not offer. In The Complete Writer series, Susan Wise Bauer turns every parent into a writing teacher. No experience is needed. Drawing on her fifteen years of experience in teaching writing, Susan lays out a carefully-designed sequence of steps that will teach every student to put words on paper with ease and grace."
I am giving away The Complete Writer: Writing With Easy Instructor Text.  These can also be purchased online from Peacehill Press for $29.95.
10/5/12  And the random winner of the Writing Curriculum is… Adrianne!  Thank you to everyone who contributed by sharing with us!
Also this month's random subscriber winner of the Amber Teething Necklace is… Couponforfive!  Congrats and thank you for subscribing to my blog!