Families for Home Education in Missouri, aka FHE, was created to protect the inalienable right of the parents of Missouri to teach their own children without state regulation or control.  FHE has an essential resource book for Missouri home educators titled, First Things First.  Below is an excerpt from that book, and the emphasis is mine in regards to unit hours.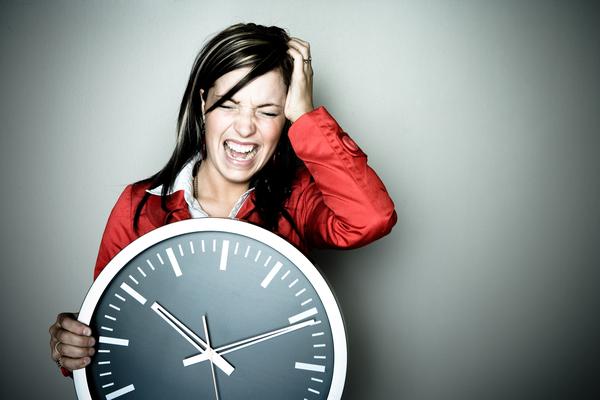 "This has probably been one of the most debated and talked about topics in the Missouri home school community since the law was passed. This issue has not been decided in a court of law. Over the years, FHE has provided documentation and opinions from educations experts and lawyers in order to provide guidelines for the home school community. However, the bottom line is that the responsibility of accurately recording the hours of instruction lies with the parents. Remember that this documentation is designed to serve as your defense, so it is to your advantage to be cautious in recording hours.
Home educators often worry about what constitutes an hour of instruction. The term isn't defined in the law and is therefore subject to some interpretation. In a formal classroom setting, an hour of instruction is a typical classroom session, a unit of educational instruction or activity. For example, an hour in the typical classroom does not constitute 60 minutes on the clock. In most classrooms, it is between 45-50 minutes. Instruction away from home for field trips, choir practices, private lessons, etc. may certainly be added to your plan book/diary and log. Because of the nature of home education, most of our children receive far more than 1,000 hours of instruction throughout the school year. To be safe, we should document as many of these hours as we can.
It is highly unlikely that you will ever need to produce the log for anyone. The only person who has the authority to request to view your log is the prosecuting attorney in your county. This is not a routine practice, and should only occur if someone reports you to his or her office for educational neglect or truancy."
There are many families homeschooling that interpret this to mean that when you have a curriculum to follow for one school year and your child accomplishes one unit/lesson of this curriculum, that you can count that as 1 unit hour.  So if your child is advanced and can accomplish the lesson in 15 minutes that you can count that as 1 unit hour.  While there was a time that this was true it is no longer the case.  About 10 years ago the interpretation of the law was clarified in the homeschooling legal community.  The 1,000 hours of instruction is a literal meaning and all hour requirements must be met to be complaint.  So if your child does math for 15 minutes, you can only count that 15 minutes.  Now if your child does math for 50-55 minutes it's perfectly fine to round up to an hour, but only as long as you also round down.  So doing math for 35 minutes would be recorded for 30 minutes.  This is in regards to elementary and middle school.  And don't get overwhelmed, I've found getting my hours is super easy!
In high school: "a completed credit towards high school graduation shall be defined as one hundred hours or more of instruction in a course."  You need 16 statutory credits(100 hours each) to not be considered a drop out.  But colleges are looking for 22-24 academic credits(completed course, ex: Algebra 1).  As my children are not in high school I will not delve farther into that topic today and I would encourage you to become familiar with the state law if you do not live in Missouri.
This information is current as of the 2012-2013 school year and was provided by the legal defense attorneys of FHE and HSLDA per LSHE.
---
Here is a sample of a spreadsheet that can be used to track your hours.  To understand more about hours visit my post on Homeschool Beginnings.

My 2012-2013 hours log was a rewards chart.  So that when my child accomplishes his goal he gets something special like going miniature golfing or paint-balling, etc.  If I needed to produce my hours log to an official I would give them this sheet and NOT my lesson planner.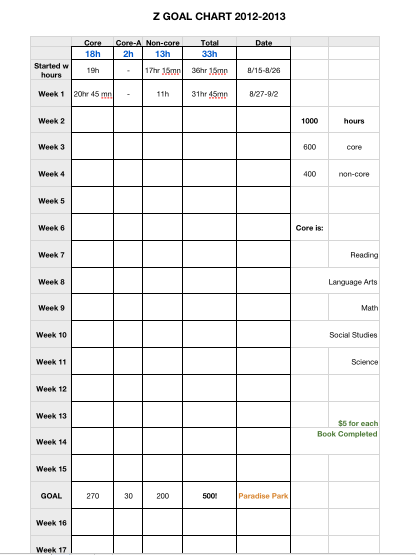 For 2013-2014 I created my own 3 ring planner and put my log sheets in the front.  Here is what it looks like for each child.