When my preschooler is ready to do school we start with our math primer book, tracing letters and numbers, learning phonograms, reading corner, and piano daily.  We "do school" when she feels like it and only for as long as she feels like doing it at a time.  
The rest of the day is spent imagining with toys, playing with playdoh, coloring, painting, playing with manipulatives, and yes sometimes watching movies.  In the nice weather more time is spent playing outside.  Occasionally she will join in projects with her older brothers.  For example last week they all picked a bird they wanted to study and we did a project on that bird.
MATH:  For our math primer we use the curriculum from Math-U-See.  In the past my boys used work books from Walmart that we were given.  The lessons are short and simple.  I do not stress how the child's written numbers look at all.  Their motor skills are not developed enough to force perfect writing at this stage.  Playing with math manipulatives is always fun and helps teach patterns, sorting, and basic addition and subtraction.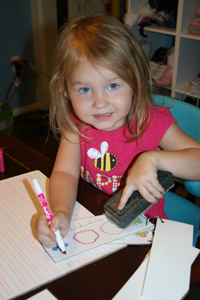 WRITING:  We use sheet protectors and plastic sleeves with print outs to practice tracing shapes, letters, and numbers with dry erase markers.  My children have always enjoyed using dry erase markers.  This helps them notice the shapes and get their hands use to creating the shapes.  I do not expect them to write the numbers or letters from memory in preschool.  Although Tylea has been writing her name on her own since right after her fourth birthday.
READING:  We have a reading corner setup.  It has a CD player with headphones and a little rocking chair.  There are baskets with specific reading levels in each.  There is also a box full of books with audio CDs.  My preschooler is welcome to sit and listen or just flip through books anytime she would like.
PHONICS:  I start introducing phonograms before preschool just to gage the child's ability for retention.  My daughter was not ready for phonics until her preschool year.  So we have been working to memorize the phonograms.  We haven't gotten very far with her and that's just her level.  With my second son in preschool he picked up on the first 26 phonograms pretty quickly.  He was competing with his older brother though and I think that pushed him to learn them quickly.  My daughter doesn't have that pressure so we are taking it slow and that's ok.  She does enjoy doing the first Explode the Code book, although I did not use this previously with my boys.
SCIENCE:  We go on hikes, we visit nearby parks, we have a pass to the Kansas City Zoo, we visit Powell Gardens(a botanical garden), we take camping trips to parks like Dinosaur Valley in Texas, spring 2014 we are going to the Creation Museum in Kentucky.  We watch shows like Magic School Bus and the Discovery Channel.  We bake together and talk about the weather pretty regularly.  We also have a  farm and lots of animal and plant science gets discovered.
BUSY BAGS:  We have a box of busy bags that our preschooler will go through when she feels like it.  She does it at her own pace and asks me questions as she goes.  It's pretty neat to watch her play and discover.
PIANO:  My children start piano in preschool.  It starts them getting use to practicing and rhythm.  And they are adorable at piano recitals.  My daughter was so tickled with herself after she played her piano piece at her first recital.  It was adorable.
ARTS & CRAFTS:  We are an artsy family and have lots of different supplies always available for creating.  We paint often, color a lot, cut up things into tiny pieces for fun, and create seasonal crafts.
I'm writing a blog post on what we do in Kindergarten and how I teach my children to write their letters using a circle space and the star station.  It's worked really well for my two boys and I will start my daughter working with it in the fall, which will be her kindergarten year.
Check out my curriculum post for 2013-2014 school year for a full list of what we use.  And here are links for information on how I teach kindergarten and elementary.