What is an Amber Teething Necklace?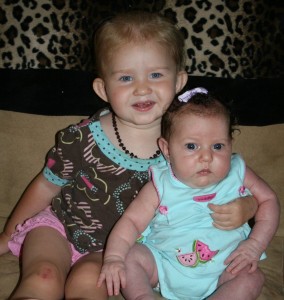 Amber has been a natural source for traditional healing that has been passed on through the generations.  This alternative medicine has proven health benefits and amazing properties that offer a drug-free alternative for relief of teething pain for infants.  This homeopathic product has analgesic and anti-inflammatory properties that benefit children and adults alike.
Amber is a fossilized resin from trees from thousands of years ago.  Resin is a natural antibiotic for trees, protecting it from infection or injury.  Amber has been worn for centuries as a natural remedy for pain relief, it promotes fast healing and boosts the immune system.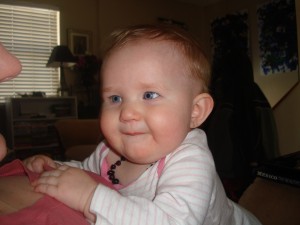 Amber is worn on the skin, and once warmed by the skin releases tiny amounts of healing oils which are adsorbed into the bloodstream.  In war times doctors were known to slap tree resin on a wound as a disinfectant and saved lives that way.  Scientists have also shown that amber produces organic, purely natural energy and is electromagnetically alive.  It protects from negative influences of electrical equipment like computers, televisions, mobile phones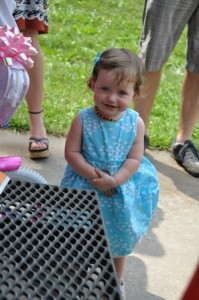 and microwave ovens.
Baltic amber contains anywhere from 3-8% of succinic acid, a scientifically examined medical substance used in contemporary medicine. The highest content of the acid is found in the amber cortex – the external layer of the stone. Nobel-prize winner Robert Koch (1886), the pioneer of modern bacteriology, proved that succinic acid has a very positive influence on the human body. In the 1930's and 40's, European biochemists discovered that succinic acid is an amino acid created naturally in every cell of the body capable of aerobic respiration, participating in the citric acid – or Krebs cycle. This is how carbohydrates, fats, and proteins are metabolized into energy.
Amber teething necklaces are sold in pharmacies in many countries including Switzerland, Germany and Austria where amber has been respected for its medicinal qualities for centuries.  These necklaces are knotted by hand in between each and every bead, so that if the necklace breaks (which it should if necessary), the beads won't scatter.  It fastens with a breakaway screw clasp that will break if too much pressure is applied to prevent choking.  Amber teething necklaces and bracelets are made to wear but not to chew! Teething necklaces and bracelets should be removed when child is sleeping or unattended!
Brookie-Lee's Review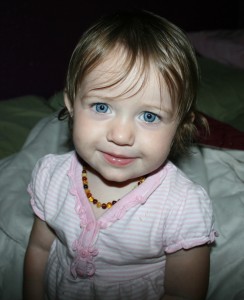 We LOVE our amber!  We didn't know about the wonderful amber necklaces with our first child and we all suffered through teething.  His poor swollen gums kept us up many a night and the drool was insane.  We would change outfits because the drool would have him sopping wet.  And occasionally we would try something like oral gel with no relief and baby Tylenol for temporary relief.  And just so you know I am NOT a fan of using Tylenol for children, but he was miserable and we were desperate.
When I discovered amber teething necklaces my second child was 1 year old.  We put it on him and didn't notice a radical change.  He still wanted to chew on everything and would whine a little here and there.  I took it off a few days later to give him a bath and forgot to put the necklace back on him.  The next morning I had a super drooly, extremely fussy, little terror on my hands.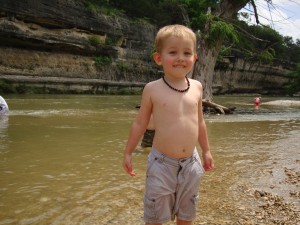 He was a totally different child from the day before and I was at a loss.  What changed overnight?  Why was my child so completely changed?  I wanted my cheerful child back!  I walked through our day and diet and discovered the only thing different was that I had taken the necklace off.  I put the necklace back on and I never took it off again.  My third and fourth children received their necklaces on their birth days and wear them until they take them off themselves(around age 3).  We have never had a recap of teething like with my first son.  Molars and canines with my second, third, and fourth child have been a breeze in comparison.
The Giveaway!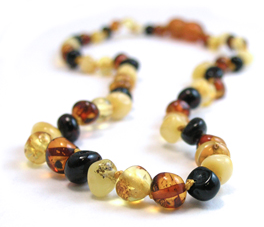 I love this product and I believe so strongly in it's effectiveness.  I've been recommending it to customers and giving it away as baby shower gifts for years.  Each of my children has one, as do my husband and I.  They are amazing and I highly recommend them for teething and other chronic pain in children and adults alike.  It's amazing, all natural, and safe.
I am giving away an amber teething necklace!  This natural teething pain reliever is the best natural solution on the market.  It is genuine Baltic amber jewelry using only AAA class, jewelry grade, raw amber material.  These can also be purchased online and in Lee's Summit, MO from Happybottomus for only $18.95(which is the most affordable I've ever seen it).
Share with us your teething pain stories and what you do to give relief to enter to win!  A winner will be picked at random and announced September 1st.  Thank you for participating and sharing with our community!
Also subscribe(top right on website) to receive emails when there is a new post on brookie-lee.com to enter to win another amber teething necklace in the month of August!
9/1/12  And the random winner of the amber teething necklace is… Jill!  Thank you to everyone who contributed by sharing with us!
Also this month's random subscriber winner is… Rodney!  Congrats and thank you for subscribing to my blog!