As part of Not-Back-to-School Blog Hop I am posting pictures of our "school room".  In our tiny bungalow in Kansas City each room of our house is multipurpose.  My laundry room is laundry, pantry, tool shed.  My bedroom is a bedroom, library, and office.  And my dining room is also a school room.  We do our lessons at the kitchen table the old fashion way.  😀  I hope you enjoy this sneak peak into our lives.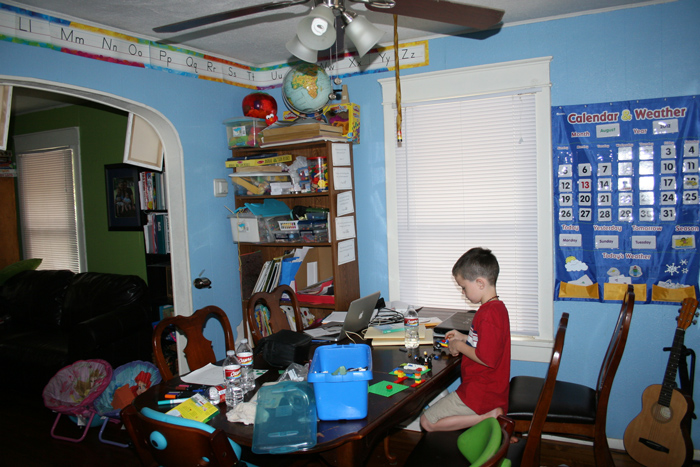 This is often what our table looks like during the day.  Zavien is playing with legos, Jaxon was coloring with markers, and mom and dad's laptops cover one end.  You can see our Bible memory verses taped on the side on the bookcase and Jaxon's guitar in the corner.  You can also see our handy pencil sharpener on the wall to the left.  It was under $20 and so worth it.
The first picture(on the left) is of the craft shelf.  This is where crayons, markers, pencils, clay, glue, paper, scissors, beads, paint, and so much more are stored.  The children have access to it whenever they want which is why it is always a disaster area.  😀  Creativity is never clean.
The second picture is the curriculum shelf.  We call it mom's school shelf.  The kids are not allowed to mess with much on this bookcase.  There is one shelf that has their reading books that they may get whenever they want.
The third picture has our number chart, weekly schedule, and the children's daily check off lists.  After last year I found that it really helps Zavien if he knows what is expected of him each day.
And the last picture(on the right) is of our new calendar.  I love it!  We've been doing this each morning and the kids take turns moving the days and updating the weather.  It's been a big hit and it only cost me $28.45!
We have limited space and so we make it all work.  We will be building a house this fall and will have a dedicated school room.  I'm super excited to get their desks(found at a school auction, so cool!) out of storage and give them their own dedicated space.  I'm excited about posting our new school room pictures whenever we finish the house.  😀
This post is linked up over at the iHomeschool Network – click below to link up your family's 2012-2013 curriculum!
NOT Back-to-School Blog Hop on Brookie-Lee.com: